Friday morning the 25th saw me being led out of the St. Louis area by

Karl Strauch. Karl's Mini is being worked on so I was following a new, blue

VW Bug. Karl gave the car to his wife for Valentine's Day (Aaaahh), but he

has trouble driving it. His wife keeps flowers in the vase (I know, pretty

dumb but people who buy these cars like the vase) and Karl, being a little

shorter, doesn't like to peer around them. Which reminds me of a story that

will tell you a little about Jeff Grebe.



Now, Karl even takes his new VW to Jeff for servicing, and one day he

complained to Jeff about the flower problem. After the next service, Karl got

in the car to find not flowers in the vase, but a bunch of cut down stems!

Jeff takes care of all customer problems.



Before we headed away from the immediate area, Karl led me to a spot on a

famous highway for another photo opportunity.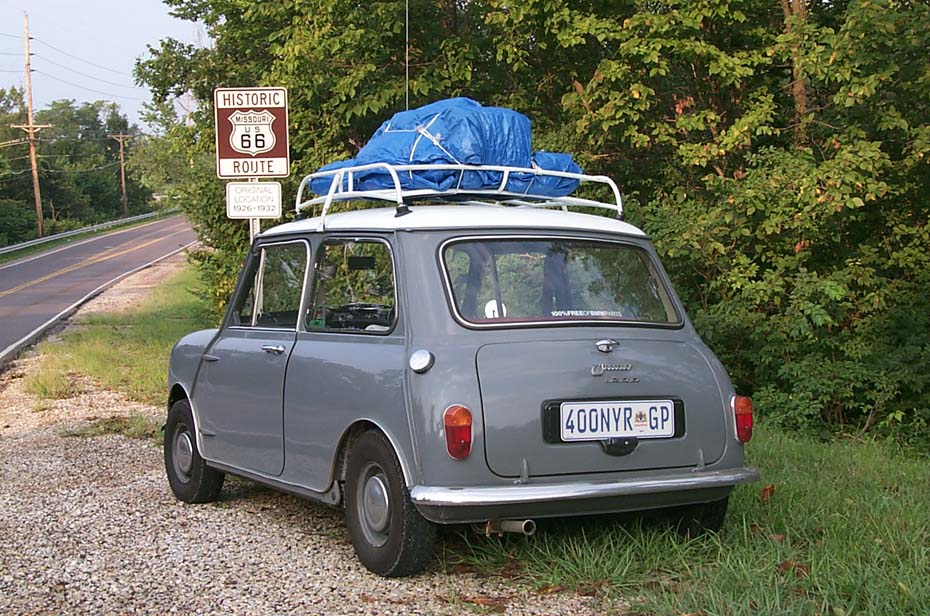 Everyone has to pose for this highway sign.



After the photo op I ended up following the blue Bug around some nice

back roads through twisty, tree-shaded lanes. Something tells me these have

been used for a rallye or two in the past. Eventually, Karl led me to Highway

94 just on the north side of the Missouri River where he let me lead for a

while until he had to turn off and head back. Horn honk, lights flash, and a

wave and EG and I were off to cross Missouri and get to Lees Summit just

outside of Kansas City.



Speaking of Missouri (and you thought you'd get away without the

geography and history lesson!)



Missouri, the 9th State we've entered, is the biggest so far at 69,686

square miles (ranked 19th). That's 18% bigger than our next biggest, Georgia.

With a population of 5.4 million, Missouri has a people-per-square-mile

number of only 78 in spite of the two big cities of St. Louis in the east and

Kansas City in the west. That ought to tell you a little about the population

per square mile in the rest of the State. For comparison, total population is

similar to Tennessee.



If you're serious about tracking some of these numbers, here's some more

to add to the matrix that helps put things in perspective. From the Mecca of

Minis, England (although some might argue that Japan is today's Mini Mecca),

compare these to what we have already.



The United Kingdom (including England, Scotland, Wales and Northern Ireland):

Population total 60.0 million. Size, 94,200 square miles. Do the math. That

works out to 637 people per square mile. So far, our highest density is

Florida at 250 people per square mile.



England only: Population, 50.6 million. Size, 50,300 square miles. Density,

1,006 people per square mile! Five of the nine States we've been in are

bigger in size. London, with about 7 million people has a bigger population

than five of the States, so far. Even adding Scotland's 30,400 square miles

on, you could fit them into the area covered by North and South Carolina. Of

course, you'd have to rearrange the shapes a bit.



What about Missouri history? At first you might have to think a bit to

figure out anything of interest, but don't give up. Missouri has a rich

history. Go back as far as you want, but maybe start with 1804 when Lewis and

Clark started off on one of the most remarkable adventures ever recorded

anywhere in the world. The size of the area controlled by the United States

had just been doubled when old Napoleon figured he'd get some extra money and

also let the US have enough land to help them in their continued arguments

with England. The more they argue, the less the time the English would have

to devote to fighting the French. (What can I say? That's the way Nappy

thought.) President Jefferson had set out to buy only New Orleans. He ended

up spending twice the national budget but got about 840,000 square miles for

pennies an acre. (Political rivals were still using Jefferson's Folly against

him several years later. Politics has always been very short sighted.)



Missouri became a State in 1820 as part of the Missouri Compromise when

both Missouri and Maine joined the union in one of those ill-fated but

well-meaning compromises to appease both the pro- and anti-slave groups.

Early on first St. Louis and then Kansas City become a gateway to the West.

St. Louis still celebrates that title with the huge Gateway Arch built in the

early 1960s. The Santa Fe, Oregon and California Trails trace their way

through Missouri. The Cherokee Trail of Tears can be found here. And look for

signs of the short lived Pony Express in St. Joseph where it started.



Other recognizable names? How about Mark Twain, born in Hannibal as

Samuel Clemens. Harry Truman from Independence. And Missouri gave starts to

Chuck Berry, Miles Davis, Scott Joplin and many others in the music arena.



How about adding Eberhard Anheuser to son-in-law Adolphus Busch? I don't

have to tell you what that produced. But I may have to clue you in on what

one Joyce C. Hall's idea became. He left Nebraska for Kansas City and got off

the train there in 1910 with the idea of selling picture postcards. Today,

his idea, which turned in Hallmark Cards, is a $3 billion business.



Here's a more obscure one. Those from England may have an advantage here.

Who is credited with coining the phrase, "Iron Curtain"? Good. Winston

Churchill. Bet you didn't know that it appeared first at a speech he gave at

Westminster College in Fullerton, Missouri.



Back to the road. Karl left me on Highway 94 because it looked a good

alternative to I-70. Well, anything looked a good alternative to I-70, but 94

also followed the Missouri. I had visions of watching the river and dreaming

of the Corp of Discovery sailing, poling and dragging their boats along as I

drove this interesting highway. It was not to be. A high earthen dyke

protected much of the land between the river and the road. Flood protection.

So, for most of the trip until I crossed the Missouri into the State capital

of Jefferson City, I could tell there was a river just over there, someplace

but I couldn't see it.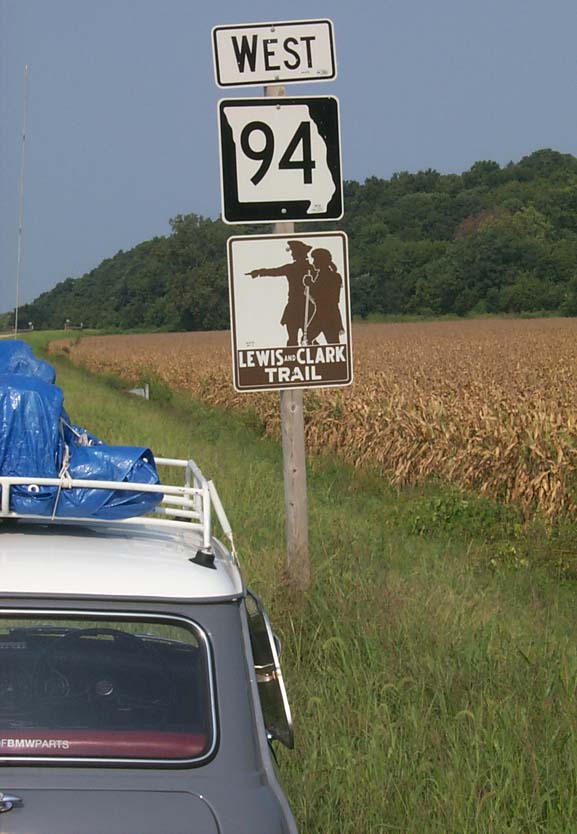 I was on the right road and would
continue to follow these signs
all the way to the Pacific
Coast.



The drive on 94 was a good one. In spite of not seeing much of the

Missouri, the road was good and the scenery interesting. It was just too darn

hot! Later in the day I spotted a thermometer sign in the shade in Sedalia

that registered 96. I have no doubt I spent much of the day's drive in

temperatures at or above 100. When I was driving through much of the South, I

was often asked if the Mini had air conditioning. Of course, I'd reply. In a

Mini, air conditioning is when you roll down the windows and drive faster.

Unfortunately, for much of the trip, that didn't help. It only blew in more

hot, humid air.



At Jefferson City I crossed south over the Missouri and picked up 60 for

the rest of the trip into Lees Summit. The drive became less interesting as

the traffic became denser and the countryside became more homogenized. I

still retain mental pictures of following one pickup truck into and through

Sedalia. It was a rolling cliché. Picture a full-sized pickup, well used, but

cleaned up nicely with two 20-somethings in it dressed up in their finest,

go-to-town western shirts and wearing BIG, new cowboy hats. They kept trying

to get a good look at the strange car following them (strange being a matter

of perspective, of course - consider what I was following) and every time

they'd turn a bit for a better view they'd bump the brims of their hats.

Didn't occur to them to take them off once inside the truck. Only thing

missing, fortunately, was the gun rack in the back window.



Oh. And I stopped a few more times trying to find Red Line. I was now out

and, in desperation bought a can of another brand, Gunk I think it was. One

can was about $2 but it only treated two tanks. Keep that thought in mind.

It'll come up again when I'm up near Omaha.



The final section of the drive into Lees Summit was pretty miserable. The

road turned into a freeway which turned into a freeway under construction. It

was still very hot. I picked a likely exit and headed for a motel I could see

from the freeway. An idiot ran a red light. It was so obvious that I pulled a

little way into the intersection and stopped to let him through. He flipped

me off for daring to point out to him the error of his ways. Welcome back to

higher population density. Then I played the "road under construction, you

can't get there from here" game for a while until I finally found my way to

the motel that was always in sight but just out of reach.



I'd been invited to meet with new Mini owner Barry Hastings. Barry had

just purchased two Minis from England, a supercharged Traveller and a period

built Speedwell Mini with 1098 power. The cars were to have arrived by the

time I got there and, having seen the cars the year before when I visited the

then owner Mark Forster in England, I was looking forward to seeing them

again. Unfortunately, delays held the cars up. In fact they were due to

arrive by plane in St. Louis this same day and then were to be trucked to

Lees Summit Monday the 28th. I'd been invited to hang around for the plane

arrival in St. Louis to take part in the media event TWA was cooking up

around the shipping of these two unusual cars, but time wouldn't allow. I

gave Barry a call and he dropped by shortly after, but giving me enough time

to recover from the day's sauna.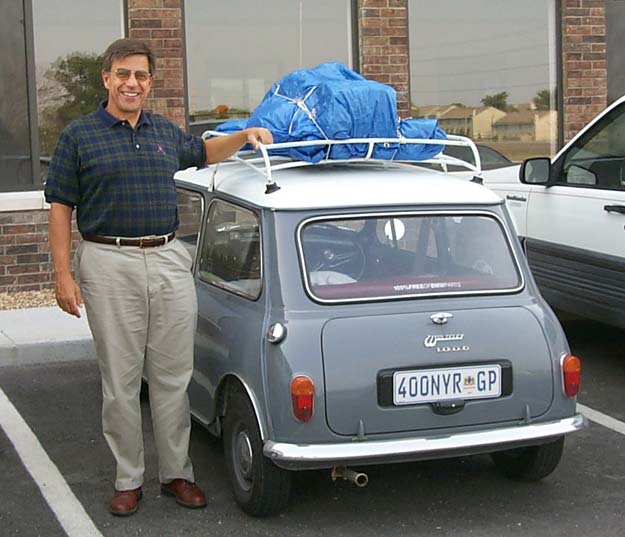 Barry comforting EG after her hot run
during the day.



Barry took me on a nickel tour of Kansas City, and I'll admit to

overcoming my pre-conceived prejudices. KC turned out to be a nice city, and,

although spending time in big cities is not high on my list of things to do,

KC would certainly merit some extra time in the future. On the tour we

happened by Arthur Bryant's Barbeque. Now, the entire trip I'd only found one

BBQ place that I would consider very good, and that was in Memphis on the way

to Florida. KC is supposed to be famous for its BBQ and Arthur Bryant's is

supposed to be the best of the best. It didn't take any convincing for Barry

to talk me into stopping for dinner. Unfortunately, I must have caught the

place on a bad day. The BBQ sandwich I had wasn't particularly good. The

flies in the place seemed to like it, so maybe I should give it another

chance next time through and do a takeaway.



Eventually, the tour ended and Barry dropped me back at the motel so I

could start the planning for the next day's run north back along the

Missouri, again. Barry, working a night shift that night, headed off to work

with, I'm sure, visions of the soon to arrive Minis in his head.



Saturday the 26th would see me meeting up with the last Mini owner I'd

see until I arrived at the All British Field Meet in Portland, Oregon. It

would also see me off on the beginning of many stops to follow in the

footsteps of Lewis and Clark.